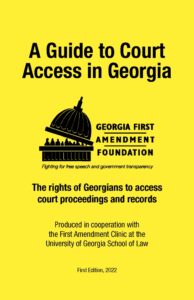 The First Amendment Clinic has collaborated with the Georgia First Amendment Foundation to create a first-of-its-kind guide to accessing state and federal court records and proceedings in Georgia.
Referred to as the "Yellow Book," the guide is organized by type of court and type of access. It uses a digestible question-and-answer format that allows readers to quickly find the information they need.
In a foreword, Georgia Supreme Court Chief Justice Nels Peterson describes the Yellow Book as "an important and helpful resource for the public and the media as we all work together to safeguard the rights to open courts."
In addition to being useful to citizens and the press, the Yellow Book is designed to assist court staff and officials who receive questions about public access to court proceedings and records.
The guide is available online; printed copies may be ordered via info@gfaf.org.
Training materials based on the Yellow Book are available here.
Special thanks to Clinic students Wess Helton and Meredith Bradshaw, summer intern Nirali Vyas, and former legal fellow Samantha Hamilton, as well as many folks at GFAF, for their work on this project.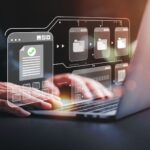 The Issue
Georgia's legislature finds that transparent government is essential to a free, open, and democratic society. The state's "sunshine laws" guarantee access to the public records and public meetings of local and state government agencies. The First Amendment and Georgia's uniform superior court rules also protect the public's right to observe court proceedings and review court…
Explore Issue