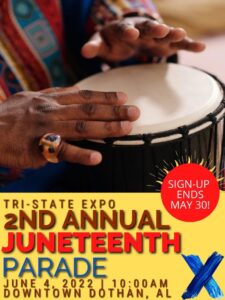 The University of Georgia School of Law's First Amendment Clinic, in partnership with the ACLU of Alabama, successfully negotiated a permit for Tri-State Expo (TSE)'s 2022 annual Juneteenth Celebration parade in downtown Dothan, Alabama.
Established in 2017, TSE is a community-centered organization that promotes small independent businesses in Alabama, Georgia, and Florida. In 2021, TSE organized Dothan's first-ever Juneteenth Parade Celebration aimed at showcasing minority-owned businesses, artists, and entrepreneurs. The parade was intended to flow down Main Street to the Dothan Civic Center, consistent with other culturally significant parades that are authorized by the City of Dothan to use Main Street.
After months of misdirection and confusion concerning the required procedure for TSE to secure a Main Street permit, and countless hours that TSE spent collecting signatures from businesses along the proposed route, the City of Dothan denied TSE's permit application. In order for the Juneteenth parade to go forward at all, TSE was left no choice but to settle for a less visible and less desirable route. Heartbroken by this setback, TSE persevered in hosting a successful 2021 Juneteenth Parade that demonstrated to City officials and others Dothan's and the tri-state community's irrepressible interest in celebrating Black Independence Day.
In 2022, the Clinic and the ACLU of Alabama wrote to City of Dothan officials, explaining the many First Amendment concerns with the permitting process for TSE in 2021 and seeking a Juneteenth Parade route that would appropriately showcase the 2022 event.
After further negotiation, the City granted a permit that both includes Main Street and provides the warranted visibility for TSE's 2022 Juneteenth Parade to be held on June 4th.
Read local news coverage of the successful parade here and here.
Thanks to Clinic students Liam Wall (2L), Samantha Luzader (2L),
and Clinic Fellow Lindsey Floyd for their work on behalf of
Tri-State Expo Juneteenth Affairs, Inc.